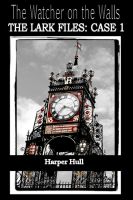 I've been wanting to release an e-book for a while now, mainly just to see how it flies and what the experience is like. This week I decided that my paranormal investigator story
The Watcher on the Walls
would be the ideal test. The genre, the length, the fact it's the first in a series - all seemed like good reasons to let it loose and see what happened.
Yesterday, after a night of formatting 13K words which wasn't anywhere near as awful as I'd imagined, it went live on
Smashwords
and will hit the big name marketplaces next week.
It costs a measly $1.75 (about a quid in Britain) and is
available right here!
You can download it for Kindle, Nook, Stanza, Sony Reader, PC, Mac, Palm - pretty much every piece of hardware you can imagine.
If you don't have an e-reader and hate reading plain docs as much as I do, I highly recommend this free application from Amazon -
Kindle for PC
I'm happy with the way it looks and now just need to promote the story itself - here's the short blurb from the website
England, 1975. Neville Lark, self-proclaimed 'investigator of the unusual,' is drawn into a brutal murder case in the city of Chester. All signs point to an horrific incident from the past when an entire Roman garrison was slaughtered by supernatural forces, but who is resurrecting the ancient evil and why?
If you enjoy paranormal mysteries, historical supernatural tales or monster horror I think you'd enjoy this. Witches, satanists, Roman ghosts, mysterious church soldiers, golems and a foppish, self-destructive protagonist with a house full of skeletons are all at play in here!
The fantastic photo of Chester's famous Eastgate Clock which forms the basis of the cover was taken by Traci, my much better half, last year. I need to mention that so she doesn't sue me for my pennies.